Investor Overview
Welcome to the Delek US Holdings investor relations homepage. In this section, you will find a breadth of information on our company, in addition to a number of useful tools designed to help inform institutional and private investors, industry analysts and the media on Delek US Holdings and its subsidiaries.
Overview
Founded in 2001, Delek US Holdings, Inc. (NYSE: DK) is a downstream energy company with assets in petroleum refining, logistics, convenience store retailing, and renewables. This platform was created through a combination of M&A and organic projects that has supported continued growth since 2001. The most recent step, which doubled the size of Delek, was the completion of the acquisition of Alon USA Energy, Inc. in July 2017 and the acquisition of the remaining units of Alon USA Partners in February 2018.
The inland refining system has four refineries with approximately 70% of its crude oil sourced from the Permian Basin, via a combination of third-party and Delek pipelines. In the midstream business, Delek is developing its Permian Basin platform through the construction of its Big Spring Gathering system around Big Spring, Texas. The focus is to further develop the more stable midstream business to provide additional EBITDA diversity by growing the size of this business over time. Initiatives are underway to improve the retail operations, which are primarily in west Texas and New Mexico, through reimaging, rebranding and new store construction.
Delek remains committed to creating and sustaining long-term value for its employees, communities, and shareholders.
Stock Quote
Change
Volume
52 Week High
52 Week Low
Stock Chart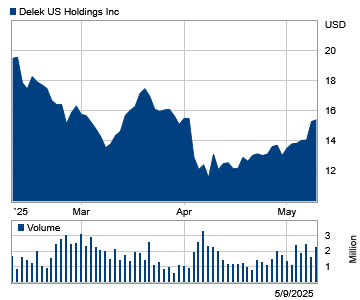 Data Provided by Refinitiv. Minimum 15 minutes delayed.
Investor Events
Aug 5, 2020 at 9:30 AM EDT
May 6, 2020 at 9:30 AM EDT
Feb 26, 2020 at 9:30 AM EST